Profile
---
𝑺𝒆𝒓𝒆𝒏𝒂 (𝑵𝒂𝒏𝒂)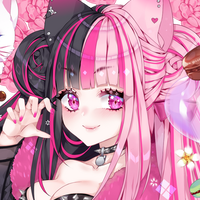 ・゚✧・゚𝓑𝓵𝓸𝓸𝓭・゚✧・゚
---
When Serena was a human, she was a very kind and caring person, but then she was forcefully turned into a vampire. Her personality changed into a very cold and unforgiving person, who will do anything to get what she wants.
"I'm just a little messed up."
𝒟𝑒𝓈𝒾𝑔𝓃
---
Height:
4'6"
Build:
Curvy
Eyes:
Hot pink
Hair:
Half black and half pink with hot pink streaks throughout
Long, Curly, partially pulled up into two buns with twin tails coming out of the buns
Skin:
Pale
Notes:
Her jacket is leather
She has the same tattoos on both legs
Her right hand has hot pink sharp nails and her left has black
She has LARGE breasts and thicc thighs
Her tattoos are roses, a skull and a cat head
𝒮𝓉𝑜𝓇𝓎
---
Backstory
Serena's parents were killed by vampires and instead of killing her they turned her into one too. Being turned into a vampire changed her as a person drastically, she tried to kill herself multiple times after turning, but she couldn't die because she's a vampire. Her new life made her harden and turn into a cold person, and as the years went by she just completely lost herself, turning into a cold blooded monster.
Alternate Reality
Serena's parents were killed by vampires still, but instead of becoming a monster she turns to the internet.
Friend
Serena hears about someone causing commotion in her area, so she goes off to kill them. Finds Karin, and sees that she's also half vampire half cat like her, so her curiosity kicks in and she decides to spare her and watch over her.
Relationship
Description
Relationship
Description